Painted Art
OSAMA RYTAMI  
BASKO
IDAN MEIR
LI CHAO
MO SKITO
MICHAEL ST AMAND
CROW
MANFRED DÖRNER
NIAMH CUNNINGHAM
HUILI & LI JIARUI
LI XINMO
ZHEN GUO
HUANG MIN
CHARLIE DUTTON
FRANCESCA MITTERRAND

Please scroll down for Artists' Presentations
or click on the names
---

BASKO
Die polnische Künstlerin Basko ist eine Entdeckung! Ihre kinetisch mobilen Bild-Collagen erinnern in ihrer Verspieltheit an die Junggesellenmaschinen von Marcel Duchamp.
Man möchte Baskos Objekte aus ihrem auf Papier geborenen Zustand sofort ins Leben entführen. Und das geht: mit Esprit.

VERNISSAGE am Mittwoch 2.11.2022 (17:00-21:00 Uhr) im Club der polnischen Versager.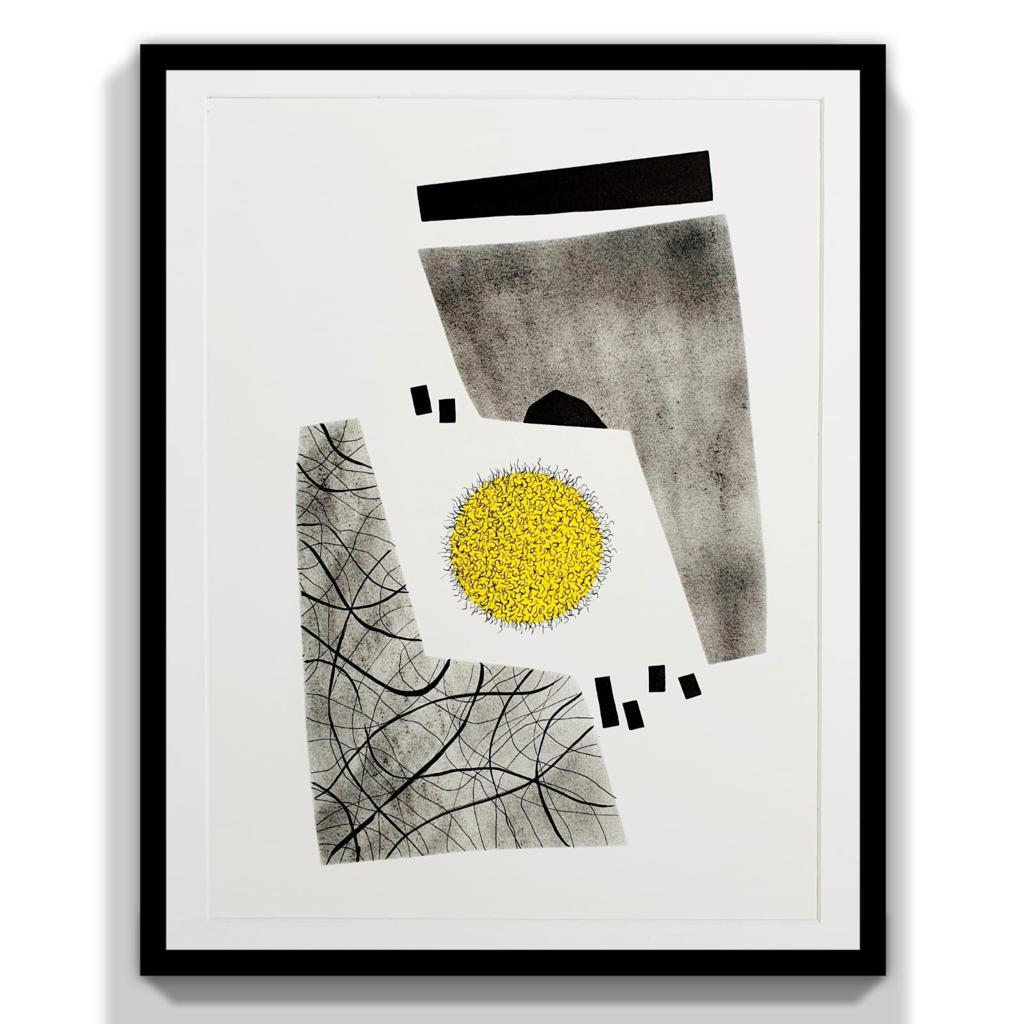 IDAN MEIR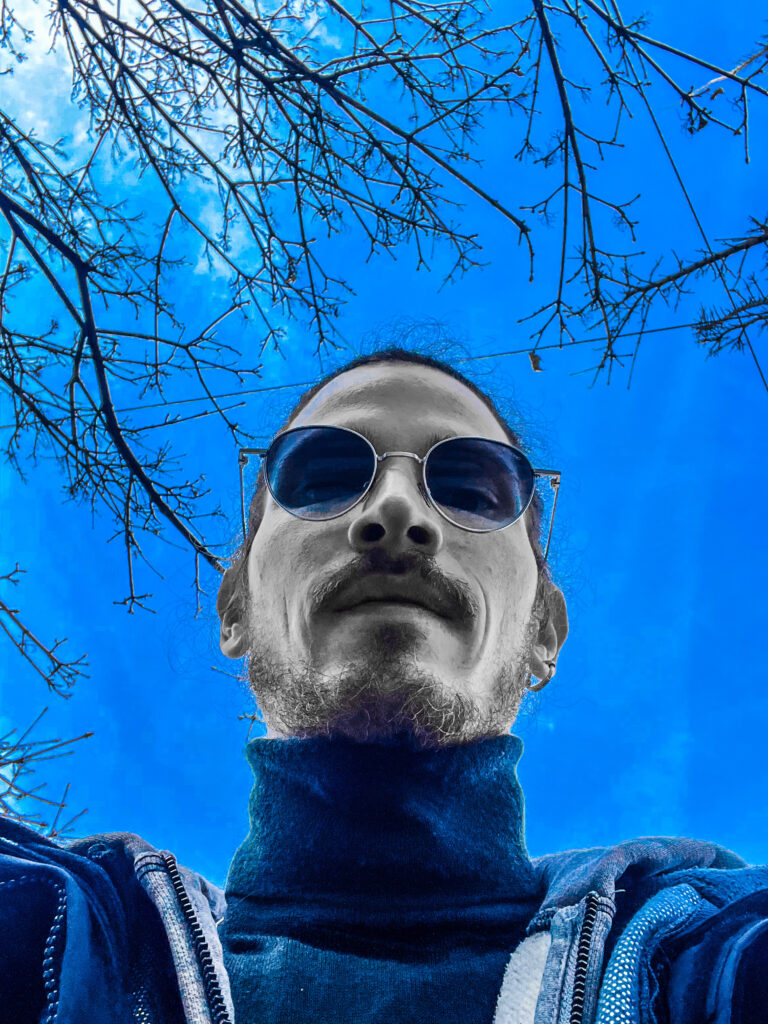 IDAN MEIR
Idan Meir is an innovative multi-disciplined artist from Israel (Tel-Aviv), now living and working in Berlin.
Being deeply inspired by nature, he experiments and creates a dialog of movement and space.
As a Conceptual Artist he expresses himself by the media of music and paint.
Coming from the musical genre that is immaterial, he jumps onto the other platform of creation that is material. There, he visualizes the sounds by his paintings and drawings that become tableaux of structures and patterns of the immaterial tunes made material by pen, ruler, brush, ink and acrylic paint on paper or canvas.
While other fine artist, when creating, may imagine their painted-art by their inner eye, Idan Meir is an artist who starts off from hearing what he then will make visual.
As a curator I am fascinated firstly by his interdisciplinary style of freely in-visioning music because it gives a second layer to his art – and secondly by the perfectionism by which he shapes his geometrical sound-constructions made visible when drawing them.
One has to look twice: Is this computer-generated digital art?
No, it is all real true painted and drawn by the artist's human touch.
Parallel to his constructivist geometrical tune-artworks in black-n-white, you will see his – seemingly – totally contrasting free-style and wildly colored art-on-canvas, as well.
This way, the exhibition is curated to display the wide range of Idan Meir's creative universe.
https://www.instgram.com/_meir_/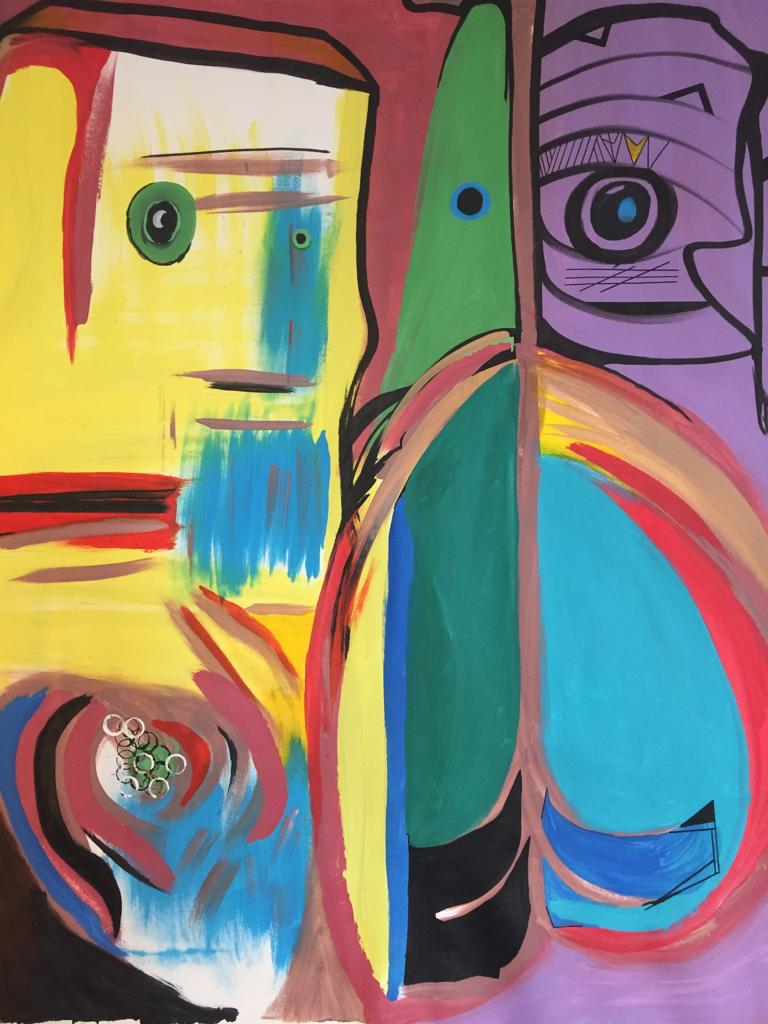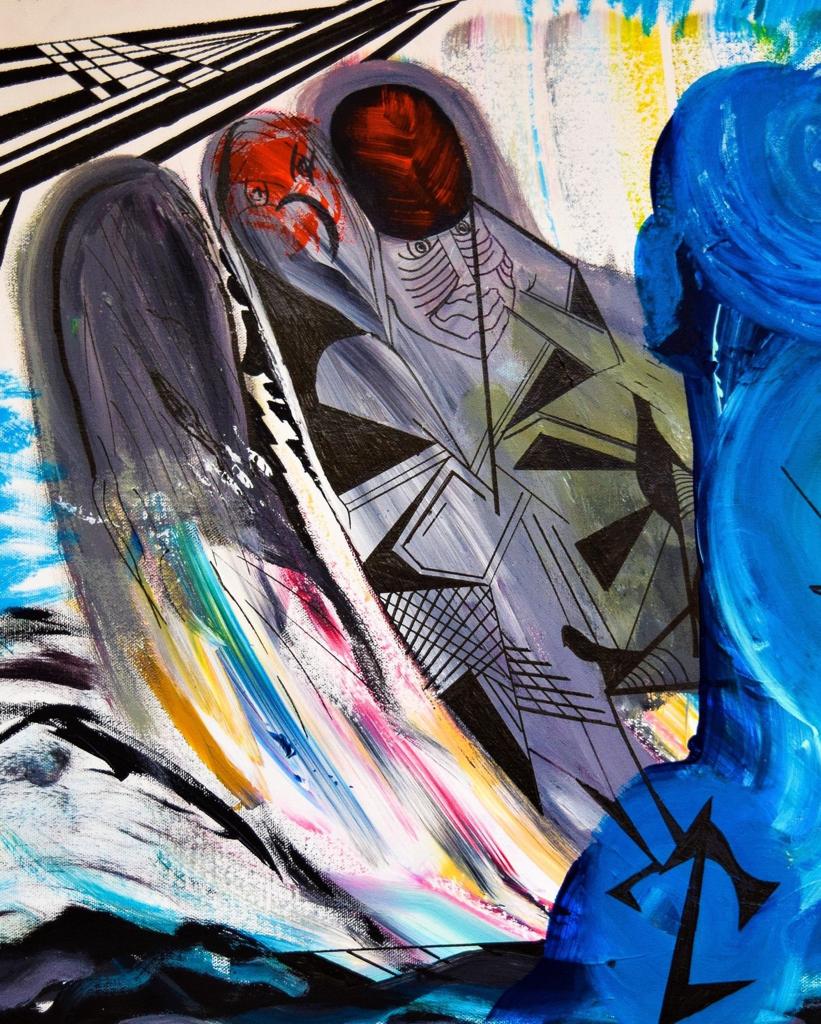 ---
OSAMA RYTAMI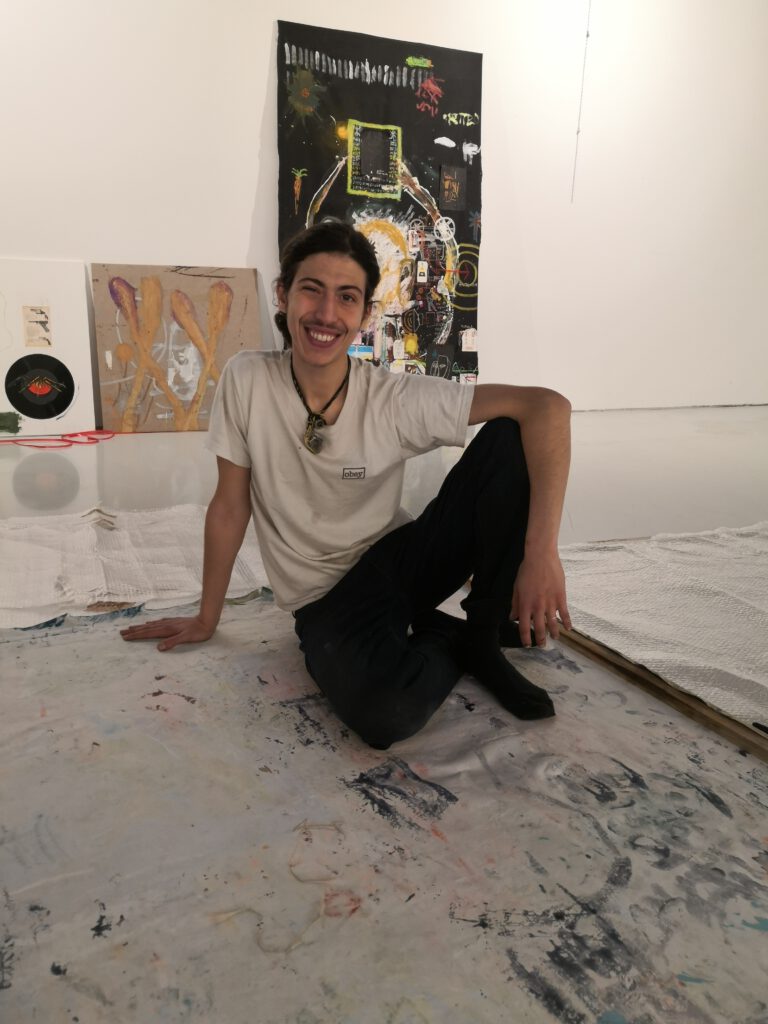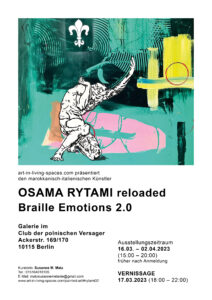 OSAMA RYTAMI

In Braille Emotions 2.0 zeigt Osama Rytami reloaded uns aktuell, wie stark er sich seit 2021 als bildender Künstler und wissenschaft-affiner Forscher weiterentwickelt hat: Verspielt und nonchalant komponiert er Stilelemente der klassischen Antike mit Pop-art. Seine künstlerische Handschrift wird jetzt überall erkennbar, wenn er indigene Pictogramme und Scribbles hinzufügt. Ein wunderbarer Tanz eines kreativen Geistes – und doch noch so blutjung.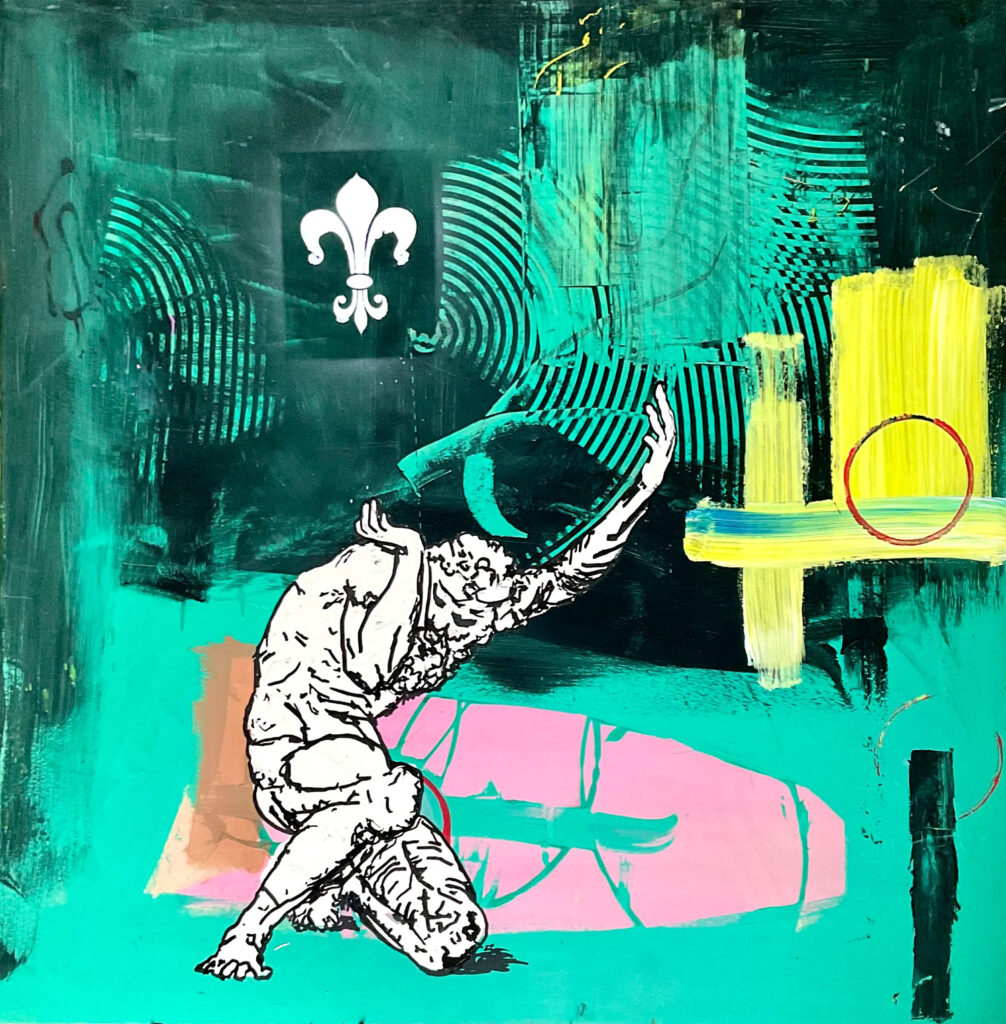 He is an Italian artist of Moroccan descent who has now arrived in Berlin and enriches us. His nomadic ancestors inspire the spirit of his work as a painter and draughtsman, who explodes colours, shapes and materials associatively with his mixed media tools.
In 2023, he is just 23 years young, yet so mature. And if a work reminds us of Schröder-Sonnenstern or Basquiat, he has never seen them. It is the very universe of his youth and the multi-layered cultures he carries within him, which he is able to paint and collage out so spontaneously and impetuously. That he has a concept in doing so, can be discovered in the indigenous heads and pictograms that appear everywhere forming his typical signature as an artist telling us of life and death in depth.
OSAMA RYTAMI
ist ein italienischer Künstler marokkanischer Abstammung, der jetzt in Berlin angekommen ist und uns bereichert. Seine nomadischen Vorfahren inspirieren den Spirit seiner Arbeiten als Maler und Zeichner, der mit seinen mixed media tools Farben, Formen und Materialien assoziativ explodieren lässt.
Er ist 21 Jahre jung, und wenn uns ein Werk an Schröder-Sonnenstern oder an Basquiat erinnert, dann hat er diese nie gesehen. Es ist das ureigene Universum seiner Jugend und der vielschichtigen Kulturen, die er in sich trägt und die er in der Lage ist, so spontan und ungestüm herauszumalen und zu collagieren. Dass er dabei ein Konzept hat, entdeckt man in den indigenen Köpfen und Piktogrammen, die überall auftauchen, die seine typische Handschrift als Künstler ist und die er in der Tiefe auch von Leben und Tod erzählen lässt.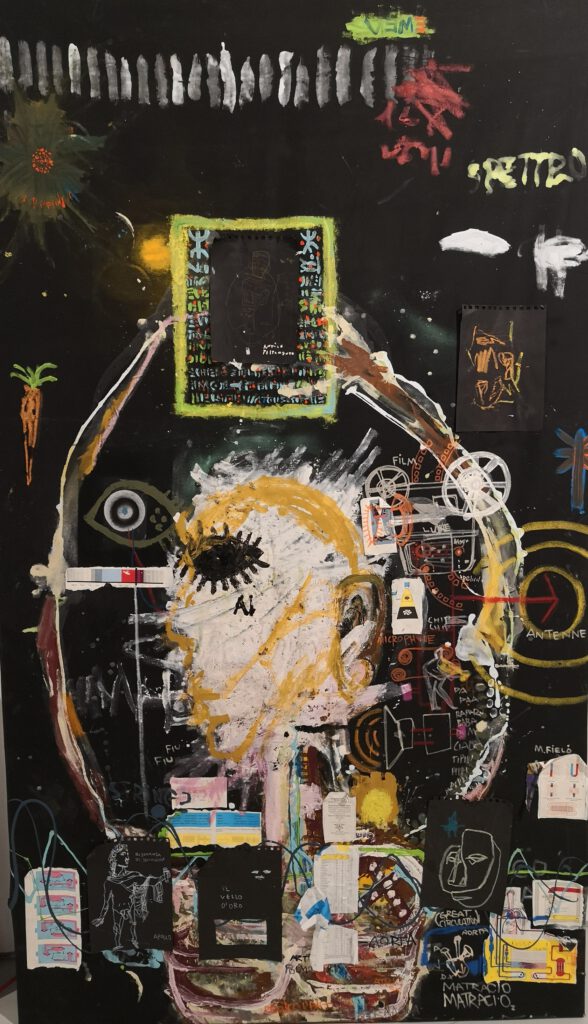 ---
MO SKITO
6*Symbolism by Mo Skito
Having fun with sex is allowed again – at least with Mo Skito.
The Berlin-based painter stages her tableaux with playful irony and profound symbolism. Decoded and reassociated in their contexts, the pictures tell orgiastic stories in bursting colours. With a humorous, voluptuous and at the same time distanced, critical and sensitive eye and great painterly and conceptual skills, the artist brings to light what some would never dream of.
– Relax! Here you may: break taboos like ripe fruit; question prohibitions that would not need to be prohibitions if they were dealt with openly. What is suppressed and forbidden (by whom and for what reason) only creates bondage and tension. By living out what nature has given us, we would have fewer complexes and thus less hatred and violence in society.
The emancipation of woman and man – in the erotic art of Mo Skito this is the essence and the encouragement.
Mo (1960) is a painter, sculptor, performance and installation artist from the heart of Berlin, Neukölln. – Background: trained as a graphic artist & designer at the renowned Berlin Lette-Verein.
Career: Highlights of her artistic career include participation in the International Building Exhibition (IBA) with a 50m ceiling painting, exhibitions at the Academy of Arts Berlin, in Heidelberg, Mannheim and Saarbrücken. Commissioned works for the Constructivism Congress and the Science Centre Berlin, for the Reemtsma Foundation (body image with 550 Reemtsma employees), etc.
As well as international exhibitions in Spain (various galleries in Barcelona, Canary Islands), France (Dobermann Collection), Poland, Netherlands (Amsterdam).
---
MICHAEL ST AMAND
Painter, Digital Media
(Seattle)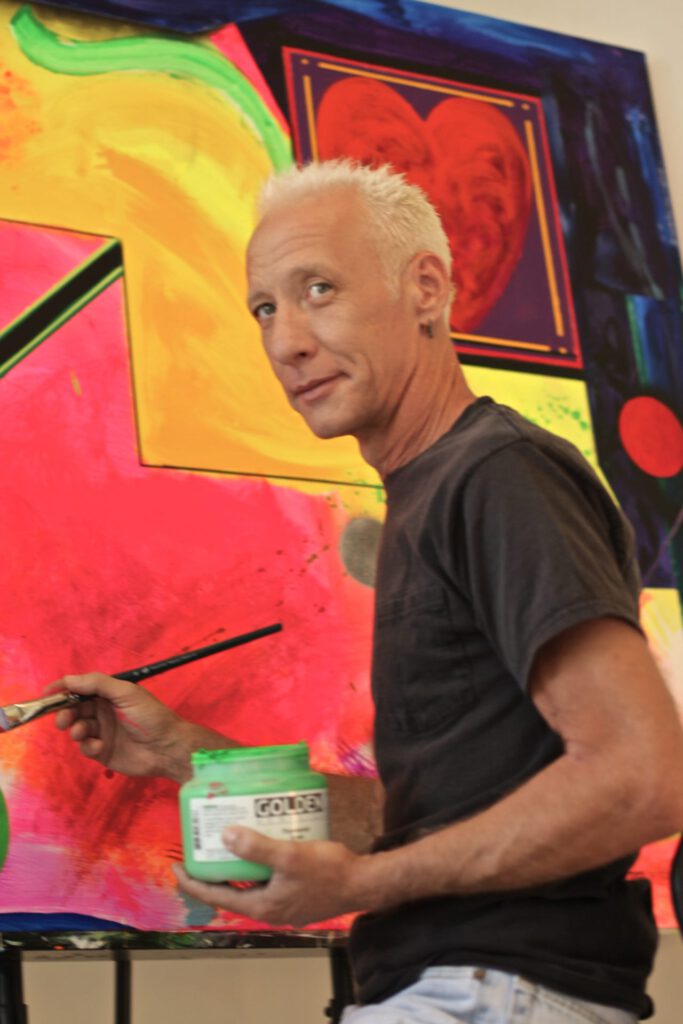 MICHAEL ST AMAND
The Painter & Digital Artist
"Michael St Amand is one of the 50 most important Contemporary American Art Masters"
(Michael K. Corbin)
Born in Connecticut, USA, Michael St Amand is a younger contemporary of John Cage, Merce Cunningham, Robert Rauschenberg. He counts among the most influential contemporary artists of the "American Art Modern". The era of Pop-Art and Art Happenings are the background of his career which he did not stop, unlike many others did or had to.
Standing on firm ground – of Colors as Light, and Light as a State of Mind – he preserved the feeling of myth, and looked beyond the surface, questioning set conditions in order to find 'truth'.
On first sight, St Amand's colorful artworks are eruptions of a passionate mind. But on closer view his playful seduction is structured by contemplation and empathy. Collages of displayed inlays – such as newspaper headlines, cut-outs from books, magazines – are opening a conversation with his counterpart, the viewer of his art. At the same time, the artist preserves a historical moment in time for the future.
This point of view led him to progress into the new era of communication from the analog to the dialog in the digital era.
His digital artworks are eye-winking intercourses of playful elements that comment on the strict patterns of the algorithm.
And then, in his typical St Amand'esque gesture to let light explode in color, he recreates his newest works on IT-display; (David Hockney found his new playground there too.)
Everything seems so light and easy looking at a St Amand. But in fact, the Art of Michael St Amand goes deep with his powerful statement transmitting the core values: Hope, Love and Peace.

St Amand's Technique:
His paintings are collages of acrylic paint, brush, spray, paper findings, glue.
His digital works are based on his photographs with paint and/or paper collages.
His display works are created fully digital for display-exhibitions and as printed editions.
Exhibitions & Awards:
Michael St Amand's work has been exhibited internationally in
USA: NYC, Dallas, throughout Florida with Miami, Naples etc.
France: Paris, Musee D'Art Moderne, at the Sorbonne, and in Bordeaux;
Germany: Berlin, Kassel; Austria: Salzburg;
Georgia: Georgian National Museum, and the Tiblissi History Museum;
New Zealand; China/ Peking; and in many more.
His works can be found in museums, corporate and private collections worldwide. He won several awards, and has been listed in the US Art Magazine "Who is Who in American Art".
He is active today with new media art and lives in Beijing with his wife.
For full detailed list of exhibitions see: www.michaelstamand.com
---
CROW
– Painter, Performance + Installation Artist, Musician, Author –
(Berlin / Stockholm)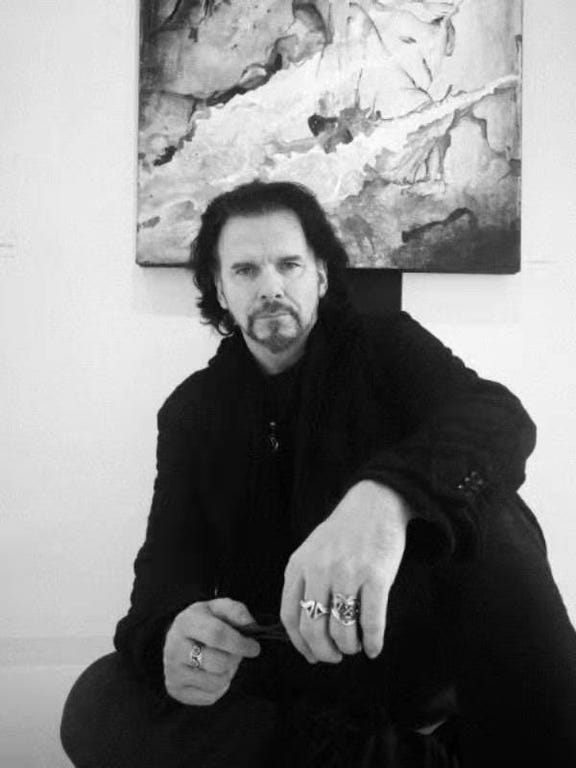 CROW
Painter, Photographic Artist, Performing Artist, Musician & Author
Artist's Statement:
"By my artworks I point at the value of the individual, but also at the mortal drama of the human being".
Crow is a German-born multi-discipled artist whose art appeals to all senses.
As a painter of dynamic figurative abstraction his concept art paintings are creative inventions realized by a whole arsenal of tools (from acrylic paint, brush, pen, knife, scraper, lighter-gas to feathers, rope, wood, paper, metal, X-rays and more). The results are multi-layered collages expressing dramatic emotions dealing with power versus fate; (art-historically Picasso, Bacon).
Crow's drawings are masterpieces of thrilling artistic skills. And beyond the technique, the artworks are telling complex stories of the multiple facets of a man's life and circumstance; (Goya, Janssen).
The art critic writes: "Crows paintings and drawings are abstract figurative portraits, illustrating inner conflicts, the struggle between obligations and desires. Dissolving figures try to find stability in rhythmical, formal patterns. The fragility and instability of the self is counterbalanced by geometrical structures. Images and ideas literally leave the frame of his artworks, expanding to a three-dimensional space beyond the limitations of plains." (Hu Art Magazine, Diana Roman)
As an author, Crow recently created a poetry & art book with his own lyrics. His Tales in Verse are illustrated by his drawings and paintings. The book pages are displayed in exhibitions as a 'Book-Wall Art Installation'.
Crow has been actively exhibited in international galleries and art-halls in Europe (Germany, Switzerland, Finland), in UK, USA, Japan and China. Some of his artworks are in permanent collections of museums; he won several awards.
For full detailed list of exhibitions see: www.paintedsongs.com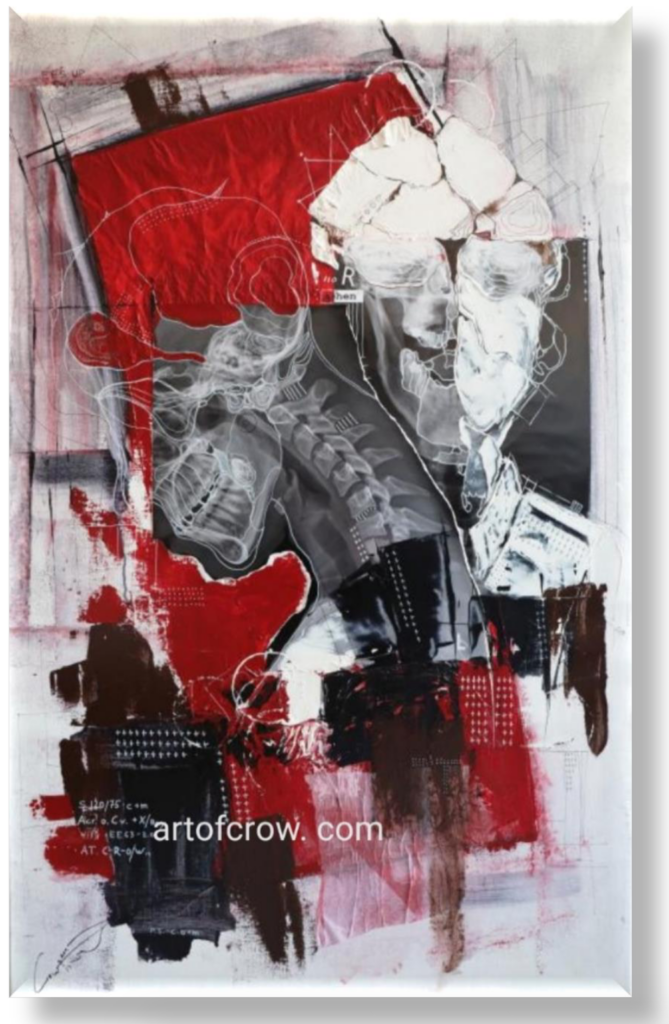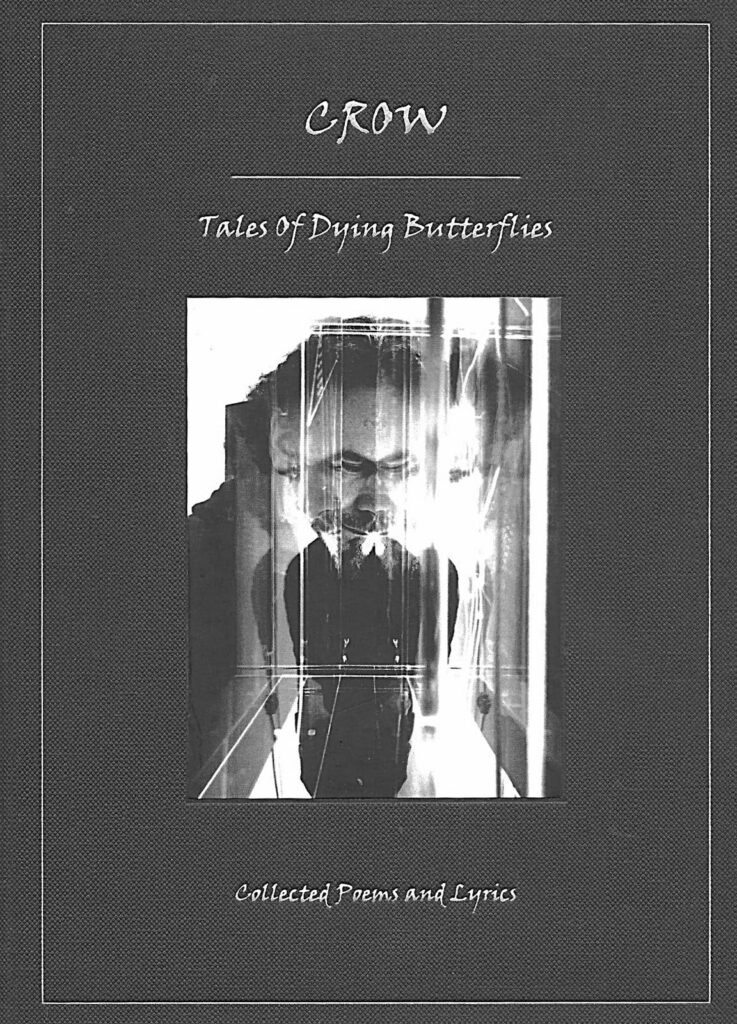 "Tales of Dying Butterflies"
a Collection of Lyrics + Artworks by Crow
Hardcover
ISBN 97839821549-61 (dt) / -92 (en)
to be exhibited at the FRANKFURTER BUCHMESSE October 2020

---
Manfred Dörner
-Painter, Sculptor-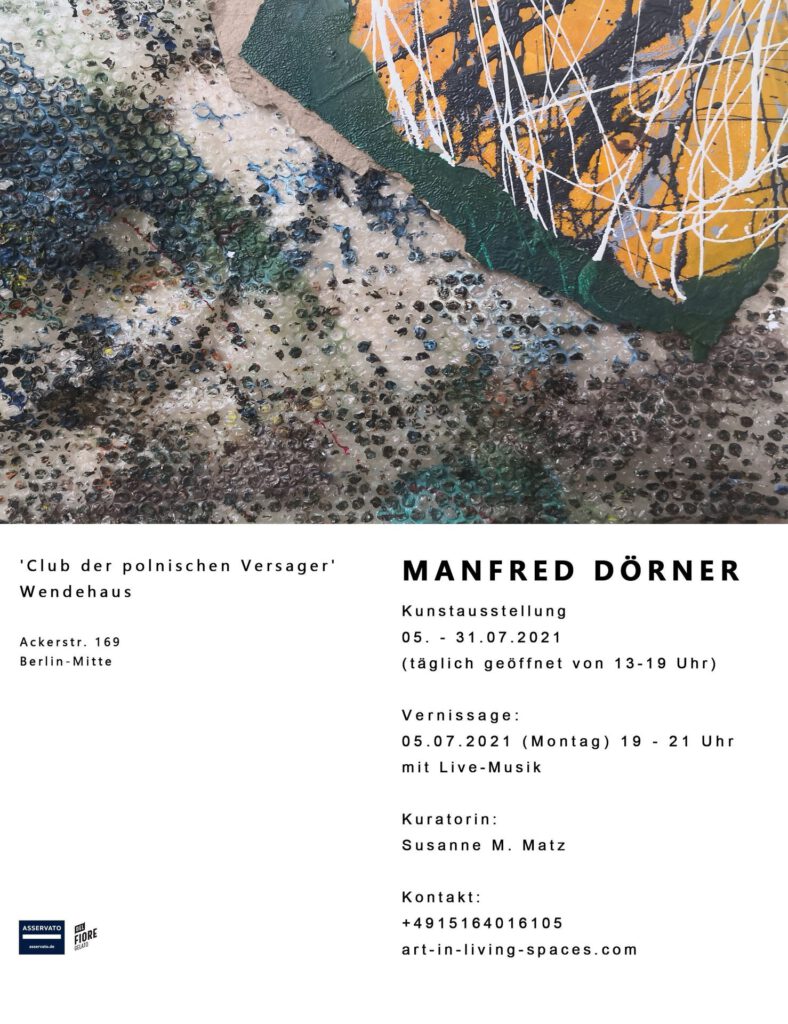 The painter and sculptor Manfred Dörner was born in Wiesbaden/Germany in 1945.
After an apprenticeship as a metalworker and dental technician, Dörner left traditional professional life and turned to art. Since then he has worked as a freelance artist. At first it is metal sculpture, until he changes the medium in the early 70s: away from sculptures made of rusty T-beams and steel sheets to painting. The change to painting took place at the same time as his move in the 1990s from Freiburg to Berlin.
Manfred Dörner's sculptures stand in public places in Germany and his paintings have been and are being exhibited throughout Germany and Europe. He is frequently presented at the international art-fair ART BASEL.
Among his loyal collectors and patrons of both his sculptures at the time and his paintings today are the collector and art patron Reinhard Conny Konzack and the business consultant and artist philanthropist Matthias Wiegel.
---
LI CHAO
– Painter, Sculptor + Installation Artist –
(Berlin)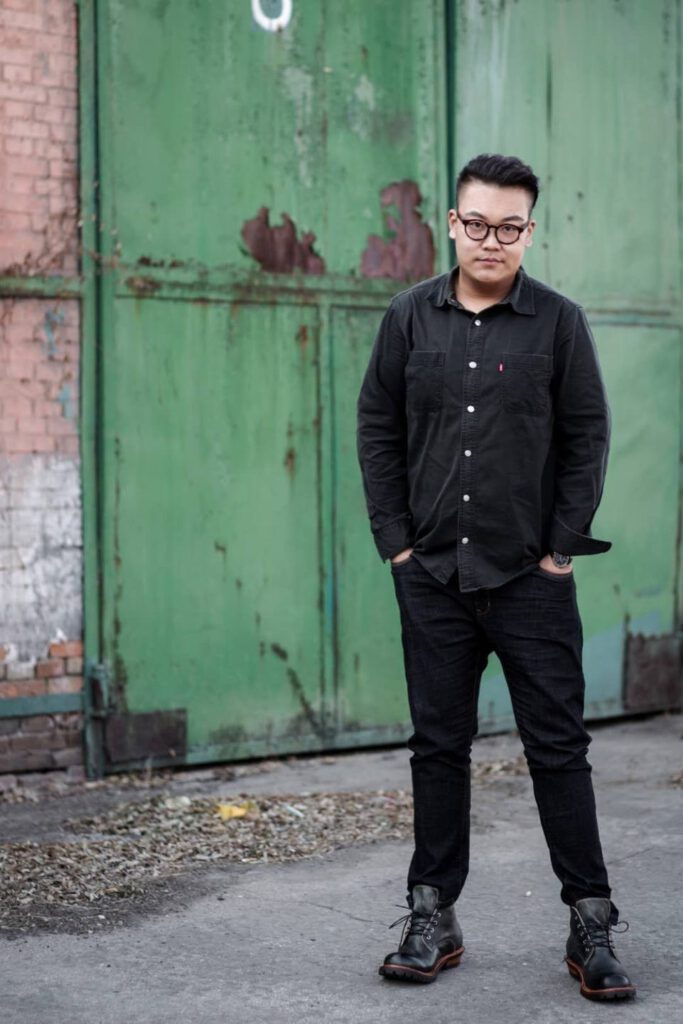 LI CHAO
The Painter & Sculptor
This young talented artist was 22 years old, when the Louvre recently discovered and promoted him into the Louvre's Contemporary Art Collection of Carousel Exhibition.
LI CHAO – Manufactured Landscapes
About the artist:
The artist lives and works in Berlin. Li Chao has a keen sensitivity and deep insight into society and the events of life. His works are often set in the surrounding reality, using the stage of everyday life to develop and test archetypes of life structures and situations and to understand the world as a whole. Artistic expression is conveyed in various media and in an interdisciplinary manner. His work includes not only painting but also various forms of performance, video and installation and is exhibited worldwide.
The theme of this exhibition is the tension of the present in the last two years, which confronts us with events and continues to challenge us with their consequences. What the artist perceives there in society is expressed in his current works:
Li Chaos' core theme is that the epidemic forces us to distance ourselves while we would actually seek protection and comfort with each other. This paradox dominates thinking and feeling through fear, anger and sadness.
He finds powerful metaphors for it that express the confusion and struggle in the darkness of today's society, in which the pure existence of the human being as an individual and the preservation of humanity in the community are at stake more than ever. – Every man for himself and (no)one for all?
LI CHAO – Bewegende Landschaften
Über den Künstler:
Der Künstler lebt und arbeitet in Berlin. Li Chao verfügt über eine ausgeprägte Sensibilität und einen tiefen Einblick in die Gesellschaft und die Geschehnisse des Lebens. Seine Arbeiten sind oft in der umgebenden Realität angesiedelt, wobei er die Bühne des Alltags nutzt, um Archetypen von Lebensstrukturen und -situationen zu entwickeln und zu erproben und die Welt als Ganzes zu verstehen. Der künstlerische Ausdruck wird in verschiedenen Medien und auf interdisziplinäre Weise vermittelt. Sein Werk umfasst nicht nur Malerei, sondern auch unterschiedliche Formen von Performance, Video und Installation und wird weltweit ausgestellt.

Thema dieser Ausstellung ist die An-Spannung der Gegenwart der letzten 2 Jahre, die uns mit Geschehnissen konfrontiert und mit deren Konsequenzen weiter herausfordert. Was der Künstler da in der Gesellschaft wahrnimmt, drückt er in seinen aktuellen Arbeiten aus:

Li Chaos Kernthema ist, dass die Epedemie uns zwingt, uns zu distanzieren, während wir eigentlich miteinander Schutz und Trost suchen würden. Dieses Paradoxon dominiert Denken und Fühlen durch Angst, Wut und Trauer.

Er findet dafür starke Metaphern, die die Verwirrung und den Kampf in der Dunkelheit der heutigen Gesellschaft ausdrücken, in der es mehr denn je um die pure Existenz des Menschen als Individuum und um das Bewahren der Menschlichkeit in der Gemeinschaft geht. – Jeder für sich und (k)einer für alle?
For full detailed list of exhibitions see: https://martand.cn/uid/214222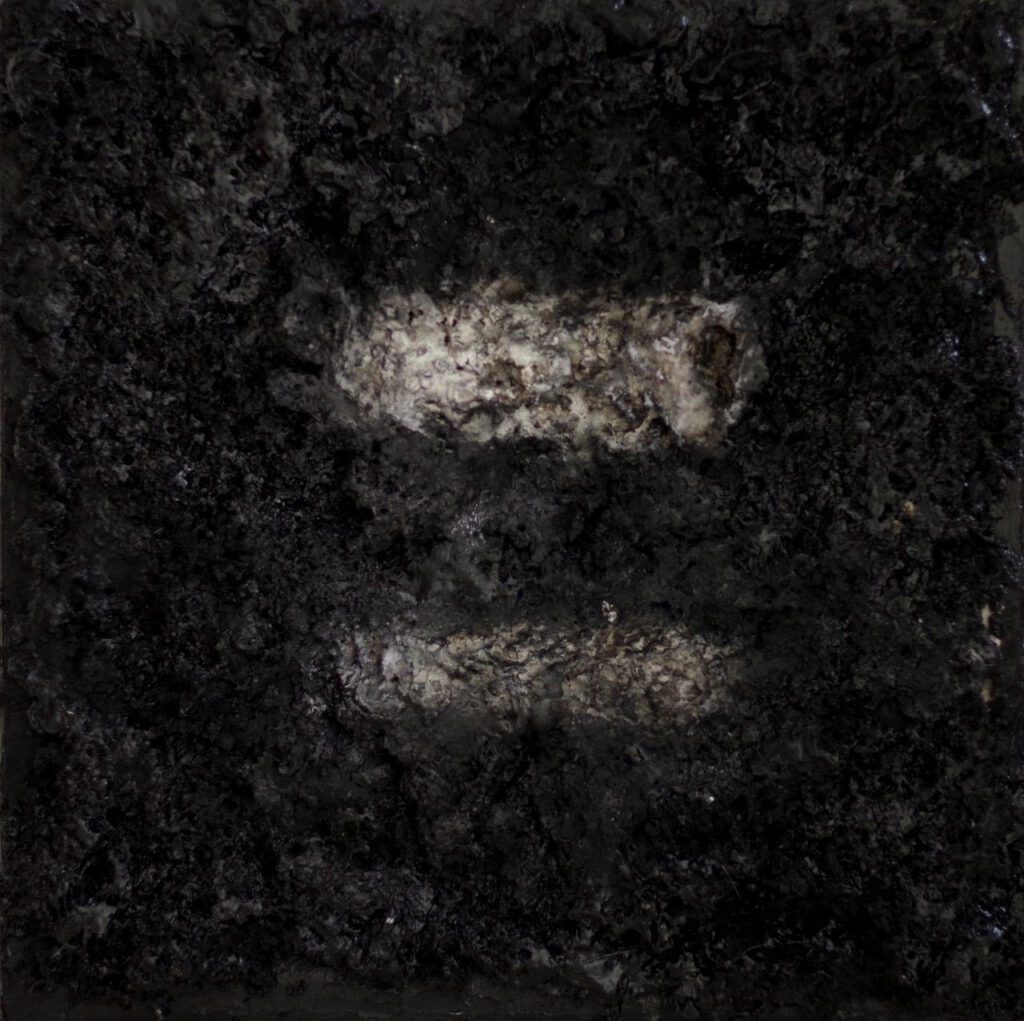 ---
NIAMH CUNNINGHAM
– Painter + Sculptor –
(Dublin)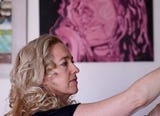 NIAMH CUNNINGHAM
The Painter, Sculptor, Performing Artist
Born in Ireland, Niamh Cunningham is a polyglot and very creative artist. As a painter and concept artist she almost scientifically experiments with mixed media:
Her emblematic sucrose works are based on photographs as a 'canvas' for paint and as a third layer she adds a coating made of liquified sugar: Sucrose like a lacquer.
Her playfulness is shown in the stunning "Hair Art" sculptures. Recycling her daily natural hair-loss, she weaves objects in an effort of up to 6 months per piece. Result is a golden-blond anatomic human skull which in its delicate fragility shines in sovereign contrast to Damian Hirst's 'noisy' Diamond skull. Or, her other feminine objects like the handbag on a chain. All made of blond hair, which appear so lofty and light, that the art-recipient inspecting it is so much fascinated to be mentally tiptoeing around the sleeping beauty and the preciousness of the artefact.
Niamh Cunningham's landscape paintings are acrylic statements for environmental awareness by strongly pointing out the colours and the light in nature.
In her chromatic series she portrays persons by focussing on his/her characteristics. The personality she emphasizes by a chromatic effect. The way she applies the acrylic paint to become metallic at first sight seems to alienate a persona. But at second regard exactly this effect underlines the person's individuality – which she also implies by the main colour dedicated to each portrait.
She is a widely exhibited international artist.
For full detailed list of exhibitions see: www.niamhcunningham.com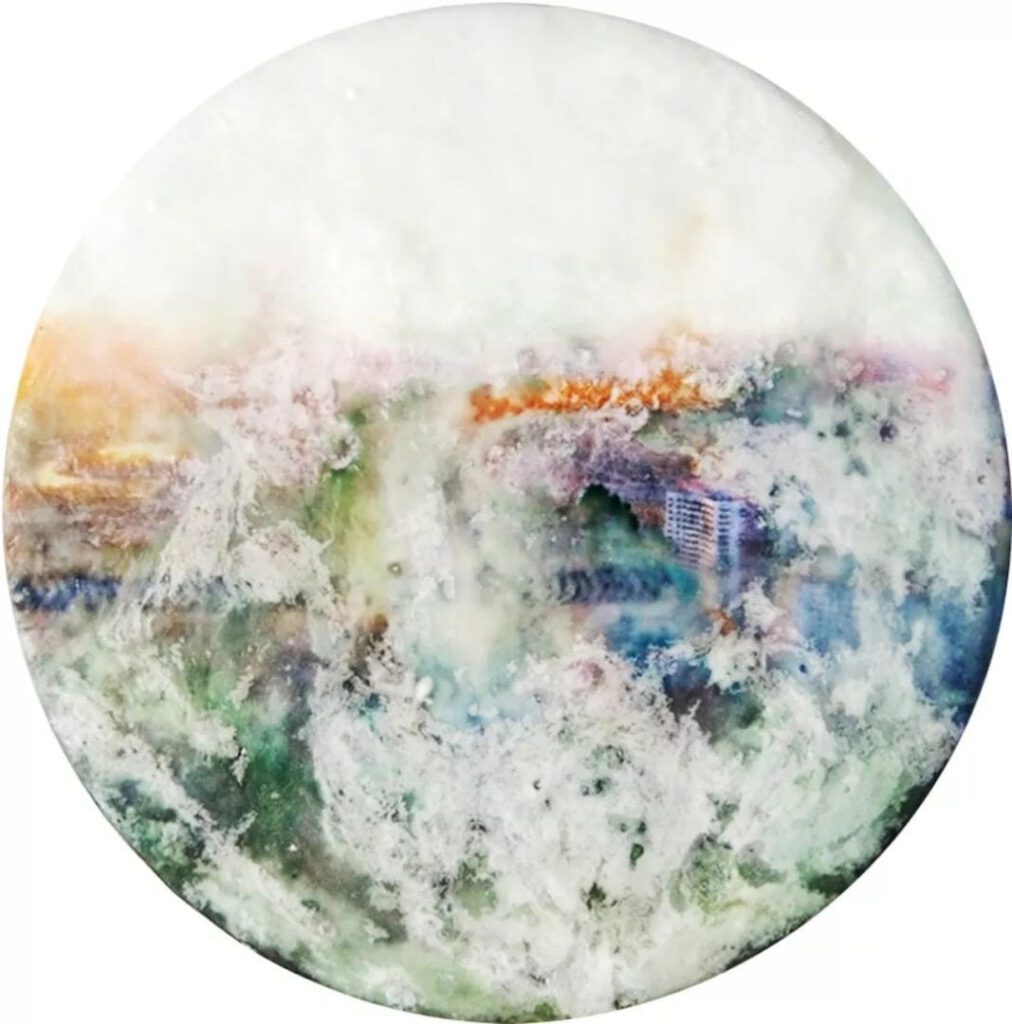 ---
HUILI & LI JIARUI
Painters
(BEIJING)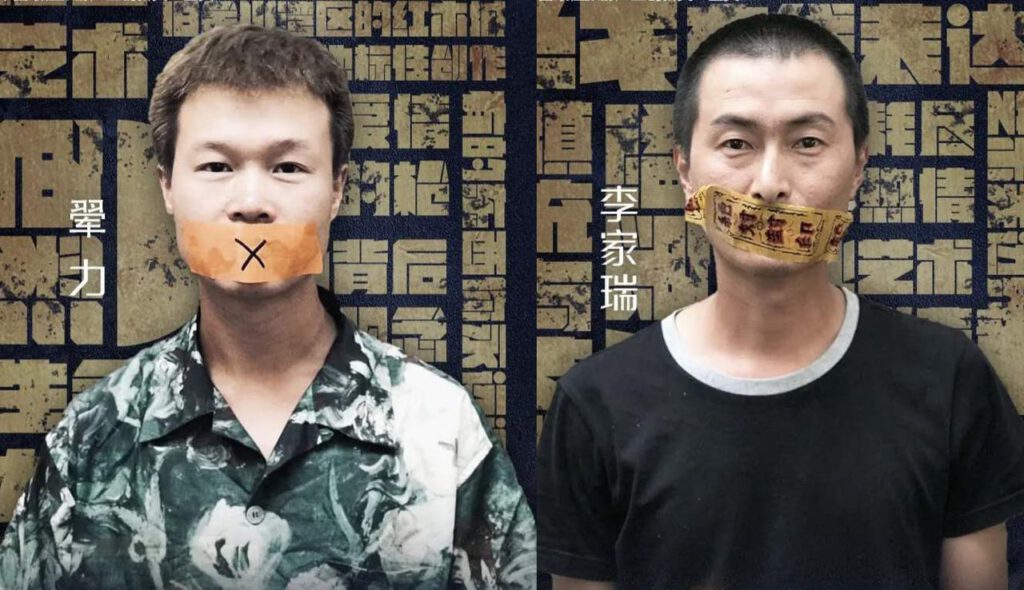 HUILI & LI JIARUI
Painter
Huili, 1988 born in Guangxi is a Zhuang Minority people. In 2012, he graduated from the Fine Arts Department of Hunan Hengyang Normal University majoring in oil painting. 2012-2015 he worked as a personal assistant for artists in Songzhuang, Beijing. Since 2015 engaged in artistic creations in Songzhuang.
Exhibitions:
Numerous Exhibitions as a mature artist in Songzhuang such as at the International Art Museum.
From 2016-2019 various contemporary art exhibitions in Beijing downtown like at the National Agricultural Exhibition Center, and in Shunyi.
2016, Contemporary Art Exhibition in Nanning, Guangxi.
2017/2018, Contemporary Art Exhibitions such as "The Post 85 New Wave Contemporary Art Exhibition" and "After the 85th Anniversary of the Young Artists Exhibition", "Chinese Contemporary Artists and Nomination Exhibition of Chinese Contemporary Young Artists" at the Guangzhou Poly World Trade Center Expo.
2019, "Extremely Cold; Academic Exhibition", Space Art Museum. And, "LOVE IS LOVE" in Beijing.
2019, he participated in the Gobi Heaven International Artists' Exhibition by paintings in the Art Hall, and by a Live Art Performance with artist Crow.
National Geographic Magazine China (2019/09) featured the artists.
Li Jiarui was born 1986 in Hebei Langfang. He graduated from the Hebei Academy of Fine Arts in 2008. Since 2009 Li is living and working in the art village of Songzhuang, Beijing. He is a painter of contemporary abstract art.
Exhibitions:
2017 "ON PAPER SUPREME"at the HAN TIAN HENG ART MUSEUM, Shanghai
2016 "ON PAPER SPACE"at the GUOJIA TIYUCHANG Sth, Beijing
2016 "ON PAPER SUPREME" at the Shanghai National Convention and Exhibion Center, Shanghai
2015 "Beisi Village Ecological Art Documenta" at the Lietian Museum of Art, Beijing
From 2012 to 2015 numerous exhibitions in galleries and artspaces in Songzhuang and in the center of Beijing
2011 "Next 10 Years Of Contemporary Art" at the TODAY ART MUSEUM, Beijing.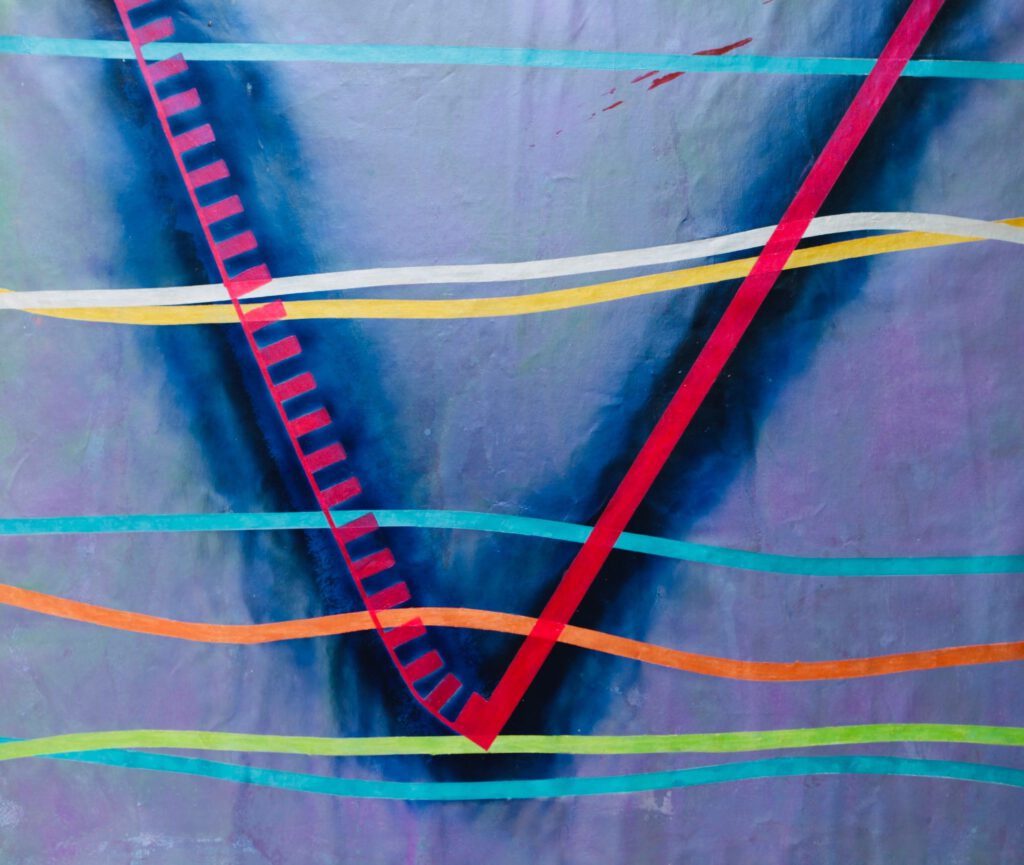 ---
LI XINMO
– Painter + Sculptor + Performance Artist-
(Beijing, Berlin)
LI XINMO
The Painter, Sculptor, and Performing Artist
Li Xinmo's works focus on society, gender, identity, ecology, memory, dream and subconsciousness. She dramatizes her socio-critical topics in paintings, videos, performances and installations. Her strong art performances are very personalized artistic embodiments in the genre of "theatre of cruelty" and "energy theatre", yet very subtle and sublime.
As a new genre of fusion-art, she 2019 started a series of mixed media using cg (computer graphics) adding hand-drawing and -painting onto the digital image.
LI Xinmo's artworks tell of power against the vulnerable,
of violence and sacrifice,
courage and awareness.
However subtle, her works can be seen in line with the expressive art of
Otto Dix, Hermann Nitsch, Marina Abramovich and the literature of Gabriel Garcia Marquez and Mo Yan.
All of them creating works of
uncompromising social and political criticism.
Li Xinmo's works have been exhibited in France (Paris, The Louvre Carousel), Sweden (Stockholm, Gothenburg), Germany (Frankfurt, Mercedes Benz, Wiesbaden, Bonn), USA (New York, Chicago), Italy (Rome), Colombia, UK, and Asia.
For full detailed list of exhibitions see: http://www.lixinmo.art/
---
ZHEN GUO
– Paintings + Installations –
(New York)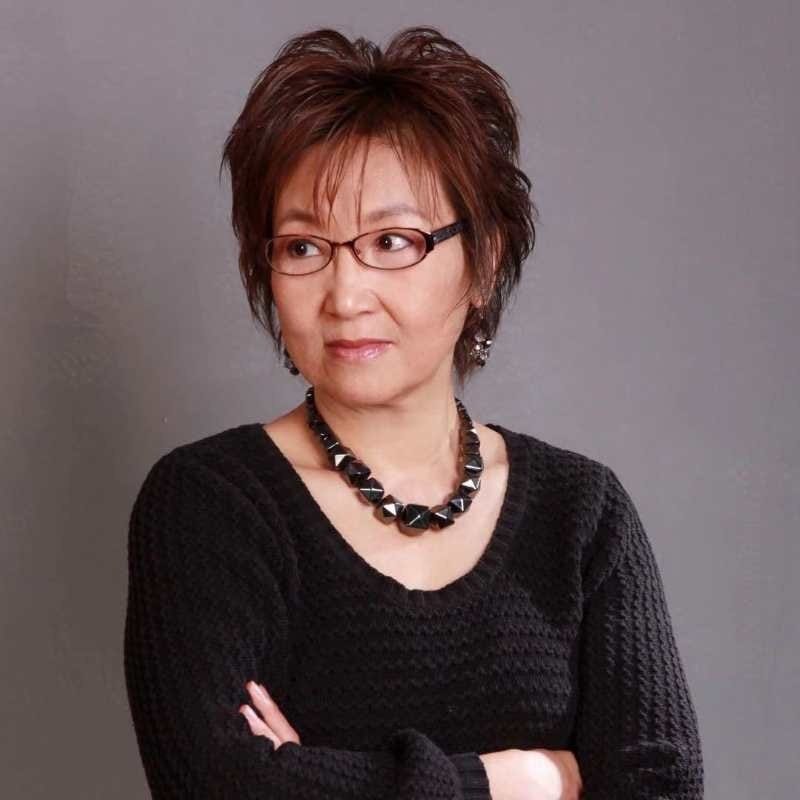 ZHEN GUO
The Painter & Installation Artist
Zhen Guo is a Chinese-American artist and curator, based in New York City.
She graduated from various Fine Art Studies in China and in the USA. In 1988, she set up her Zhen Guo Art Studio in New York. She is an influential pioneer in female Ink-Art (usually dominated by male artist). And as a curator she is a dedicated and courageous supporter of female artists' international careers.
She has participated in many international art exhibitions (USA, Asia). Sotheby's and other international auction houses have repeatedly promoted her work. In recent years, she has organized and participated in the "Existence" International Women's Art Exhibition in China, in the "Touch, Body Boundary" exhibition at the Mona Museum of Contemporary Art in the United States, in South Korea's Jeonbuk Museum of Art.
Zhen Guo is a member of the North American Artists' Association, a member of the American Professional Artists' Association, a member of the Chinese Artists Association, and a visiting professor at several art universities in the US and in Asia.
Her artworks are strong, even accusing, but at the same time very ironically provocative and sensitively sublime exposures and disclosures of the most secret and vulnerable parts of a female body.
(Zhen Guo stands in line with Anais Nin, Pipilotti Rist, Cindy Sherman and Rebecca Horn).
For full detailed list of works and exhibitions see: http://ircca.art/artists/zhen-guo.html
---
HUANG MIN
– Painter –
(Beijing)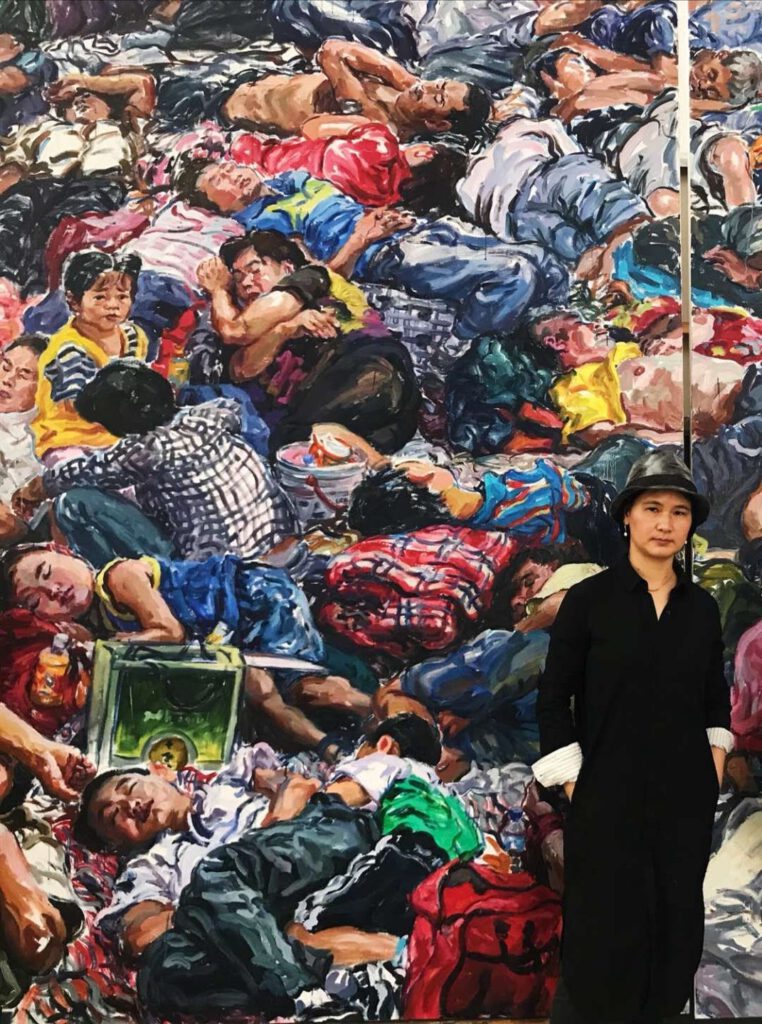 Huang Min is a painter of sublime monumental panoramic paintings that visualize the enormous size of the country and its enormous number of population. Exactly by her "big", the artist pictures the enormous effort that a Chinese man/woman has to invest in simply existing in China with all its amount of production, waste, and pressure that result in a Fatigue that is overwhelming. This is her statement of criticism and compassion. By the kingsize tableaux she elevates the human being in the masses in an almost sacral way – and at the same time criticises them for not waking up and engaging into changing their situation. Huang Min – with the Gao Brothers, Ai Weiwei, Li Xinmo – is one of the strongest and most courageous artists in China. Her monumental figurative paintings could be displayed (by wallpaper) in full wall sizes – and this way may associate to an art-presentation that roots from Michelangelo, Caravaggio, and Rosenquist.
Huang Min has been exhibited in Europe and Asia.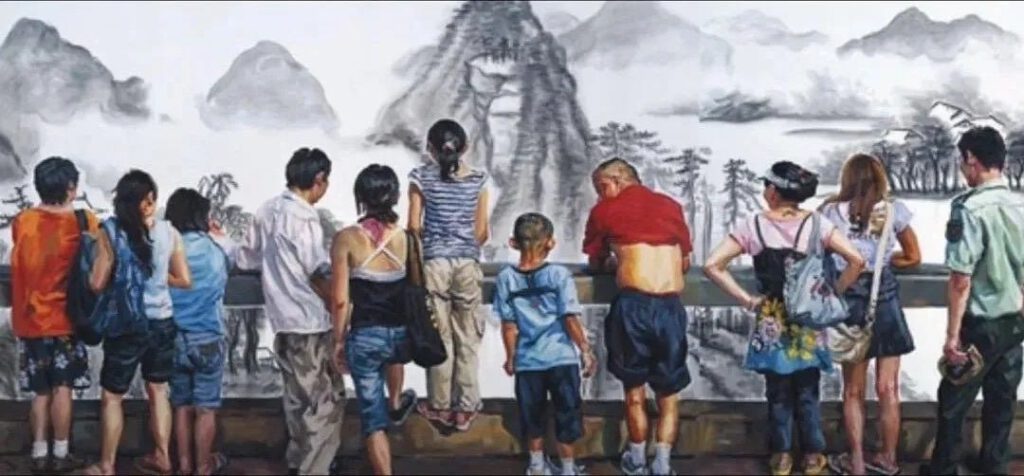 ---
CHARLIE DUTTON
Painter
(London)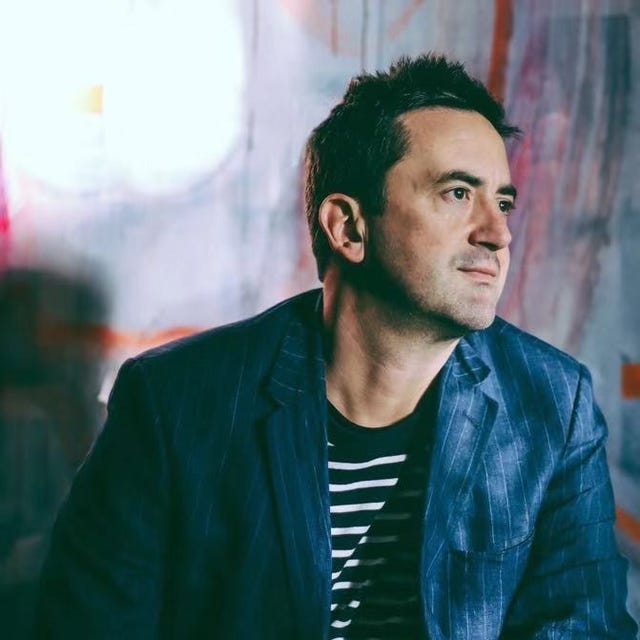 CHARLIE DUTTON
The Painter & Digital Artist
As a British citizen born in Stratford Upon Avon, Charlie Dutton-Cox started into his art-career by running his own gallery in London. He now is cooperating with the British Council as the director and academic host of a creative art edu-programme in Beijing.
As an artist himself, Charlie Dutton creates "Fine Art Photography in Intersection":
His concept is to invent multi-layered works of photography adding a material called Cyanotype, then painting on it.
The alchemistic second layer of Cyanotype paint has a light-sensitive effect, which makes parts of the artwork shine fluorescently. The application is programmed by a digital process. Yet, by the final layer of purely painting with acrylic, the artist goes beyond the digital and finishes his artwork brushing onto the prepared photographic & cyanotyped canvas his vividly expressive pop-artsy waves and strains shining in a festive bright colour.
The effect is a hybrid of all forms of modern fine art processed into one artwork.
Numerous exhibitions in London and abroad in Asia.
For full detailed list of exhibitions see: www.charliedutton.com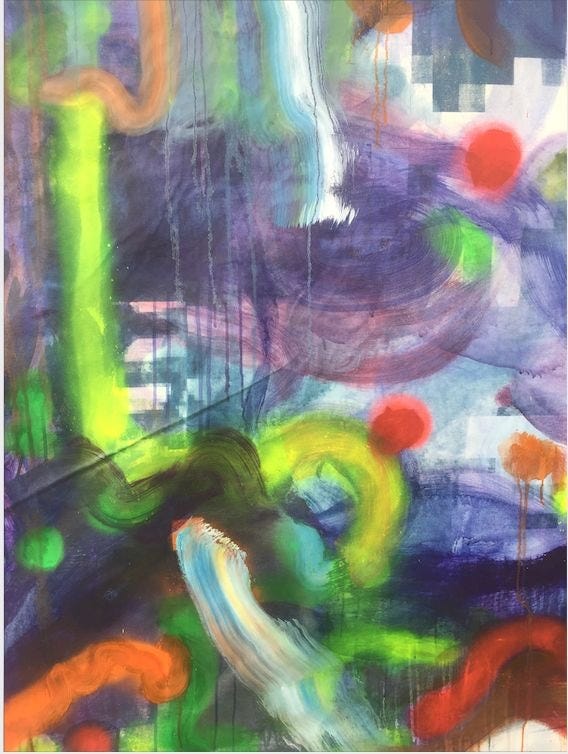 ---
FRANCESCA MITTERRAND
– Painter –
(Paris, France)

FRANCESCA MITTERRAND
The Painter
Francesca Mitterrand was born in Curacao, daughter of a Columbian artist and a French pianist. She mastered Art Studies at the Bogota Art Academy, then moved to France and lives in Paris.
Her art is gestural abstraction created in an act of spontaneity.
"Before I start creating, I empty myself of any burden or thought whatsoever. Out of this vast inner 'Freiraum' an energy rises that I lead into my arms holding the brush with paint and by an enormous gesture I let it emit the energy into a one stroke onto the canvas. I cannot do many pieces at once. It is such a demanding yet rewarding process that I usually cannot do more than one or three paintings per session."
Francesca Mitterrand's abstract artworks are illuminated by this passionate method of action painting. The unconsciously created art is like a tune of music, a symbol, a character, a gesture that speaks to us about the magic of the universe of creation.
She uses a specially designed broad flat brush and acrylic paint with her unique individualistic style. The result is never loud or overdoing, yet also not just 'beautiful' but rather organic. The energetic action preserved on canvas is emitting forever.
She runs a studio in Paris and Shanghai and has been exhibited worldwide.
For full detailed list of exhibitions see: www.francescamitterrand.com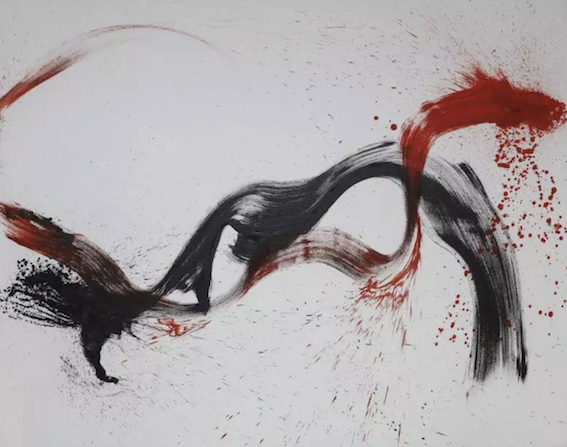 ---