Art-Aid Ausstellung

Braille Emotions & Response-Ability
by Osama Rytami & Han B(e)ing
Art-Aid Opening Event & Party
13. October 2023 (18:00-22:00)
Exhibition: 13.10. – 09.12.2023 (Mo-Sa 11:00-20:00)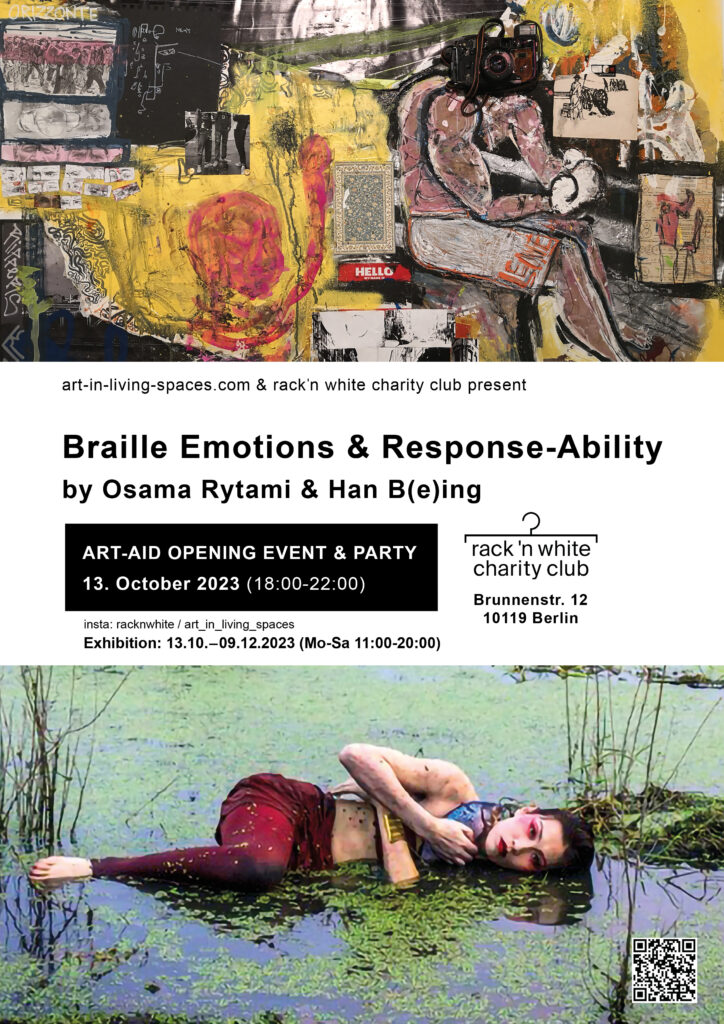 Brunnenstr. 12
10119 Berlin
(U8 Rosenthaler Platz, Ausgang: Invaliden/Veteranenstr.)
insta: racknwhite
Art-Aid Ausstellung
BRAILLE EMOTIONS & RESPONSE-ABILITY
im avantgarde flagship-store des rack 'n white charity club mit Kunst der Künstler Osama Rytami (Marokko-Italien) und Han B(e)ing (China).
Osama kommt eigens aus Mailand nach Berlin zur Ausstellungseröffnung am 13. Oktober. Ihm geht es bei seiner Kunst um Empathie mit der Natur im Klimawandel – aktuell um das Erdbeben in seiner Heimat Marokko…
Bei Han B(e)ing ist das Thema vor allem die Genderdiversität und deren Unterdrückung (wie bei ihr selbst in China).
Diese beiden existentiellen Topoi berühren unsere gemeinsamen Menschenrechte.
Die Pop-up Galeristin und Kuratorin (Susanne M. Matz) stellt mit ihrem Konzept Kunst-in-lebenden-Räumen aus. Sie kommuniziert mit dem anwesenden Künstler und beide mit Euch über die brisanten Fragen und Antworten, die uns alle angehen.
Dazu gibt es Drinks an der Bar und Sound vom DJ.
Details zu den Künstlern:
Osama Rytami …. (LINK)
Han B(e)ing …. (LINK)
Event-Raum & -Zeit: Brunnenstr. 12
10119 Berlin
(U8 Rosenthaler Platz, Ausgang: Invaliden/Veteranenstr.)
insta: racknwhite
Eröffnungsparty: Freitag, der 13. Oktober 2023 von 18:00 bis 22:00 Uhr
Ausstellung: 13.10.-09.12.2023 (Mo-Sa 11:00 – 20:00)
Eintritt frei
………………………………………..

Art-Aid Exhibition
BRAILLE EMOTIONS & RESPONSE-ABILITY
at the avant-garde flagship-store of rack 'n white charity club with art by artists
Osama Rytami (Morocco-Italy) and Han B(e)ing (China).
Osama comes especially from Milan to Berlin to be present at the opening-event on October 13. His art is about empathy with nature in climate change – currently about the earthquake in his home country Morocco.
For Han B(e)ing, the theme is primarily gender diversity and its oppression (as it is for herself in China today).
These two existential topoi touch on our common human rights.
The pop-up gallery curator (Susanne Matz) exhibits art_in_living_spaces by concept.
At the opening she will communicate with the present artist and both with you about the explosive topics that concern us all.
There will be drinks at the bar and sound from the DJ.
Details about the artists
Osama Rytami …. (LINK)
Han B(e)ing …. (LINK) Brunnenstr. 12
10119 Berlin
(U8 Rosenthaler Platz, Exit: Invaliden/Veteranenstr.)
insta: racknwhite
OPENING-Event:
Friday, October 13, 2023 from 18:00 to 22:00
Exhibition: Oct 13 – Dec 09, 2023 (Mo-Sat 11.00-20:00)
Admission free

Kuratorin : Susanne M. Matz
+4915164016105 (fon/whatsapp)
www.art-in-living-spaces.com
instagram: art_in_living_spaces